Blue exquisite micro three-dimensional style work summary PPT template
File Size: 1021.71KB
Download times: 0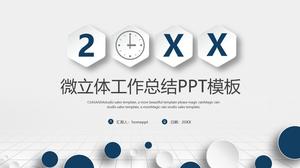 Blue exquisite micro three-dimensional style work summary PPT template,This is a set of blue exquisite micro three-dimensional style, work summary PPT template, a total of 24.
The slide template is designed and produced using the micro stereo design style. The four micro three-dimensional hexagons on the PPT homepage fill in the work report year, and the spatial grid and the blue and white micro three-dimensional circular pattern are used as decorations below.
PowerPoint template content page, made by 22 exquisite dynamic slide charts. Several commercial office, handshake cooperation, office building, rockets, pencils, puzzles and other patterns were used for typesetting.