Blue simple triangle background year-end summary PPT template, polygon PPT template download
File Size: 779.75KB
Download times: 176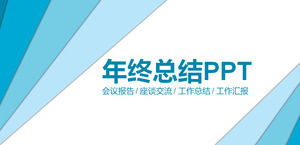 This is a set of blue and simple triangle background year-end summary PPT template, a total of 22 sheets.
The slide template cover uses a blue gradient triangle as the PowerPoint background image. Use the blue boldface in the middle to fill in the year-end work summary PPT title.
The PowerPoint template content page, using a blue flat design style, produced 19 PPT charts.