Blue solid polygon background work summary PPT template
File Size: 754.17KB
Download times: 34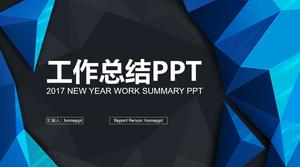 Blue solid polygon background work summary PPT template
This is a set of blue three-dimensional polygon background, annual work summary PPT template, a total of 22.
The cover of the slide template uses a black polygon map with a blue solid polygon pattern as a PPT background image. The effect is exquisite and shocking.
The PowerPoint template content page is made of 20 flat slide charts combined in blue and black. There are various types of charts, which is convenient for making work summary PPT. In addition, several commercial building pictures, workplace character pictures, iPad pictures, etc. were used as typesetting materials.