"Cloud Bread" picture book story
File Size: 2.25MB
Download times: 704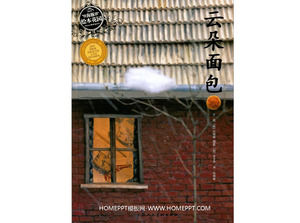 Children's picture book PPT download: "cloud bread" PPT;
"What kind of bread do you like most?" A simple question instantly ignited the children's passion, causing the children to be excited. There are lovers, there are talking about the cream, there are talking about strawberry ... ... This is doing? The original second-year children under the leadership of Mr. Chen launched a "cloud bread" picture book reading evening activities.
"The gloomy sky is still under the rain ... ..." With the teacher's deep reading, with a touch of background music, the children suddenly quiet down, wonderful story began ... ...
The children slide with the hard-working cat's mother early; with the kitten brothers playing together, found the branches quietly lying on the trees, With the cat brother together to take the clouds home, to the mother; with the cat mother together with the clouds made of cloud bread; with the kitten brothers to go to hurry to work without eating breakfast cat Father, bring his magical clouds bread; with the kitten brothers eat the magic, delicious clouds bread, the United States and the United States to play some ... ...
Throughout the story, the children together feel the warmth of the family, father and mother love the children, the children of the father and mother's love, but also appreciate the magic of a cloud bread and delicious.
When the end of the story, the children still something more to say, have to Chen teacher said, "Chen teacher, cloud bread in the end what is the taste of it? We also want to eat cloud bread ... ..."