"Diary of Earthworm"
File Size: 6.12MB
Download times: 1169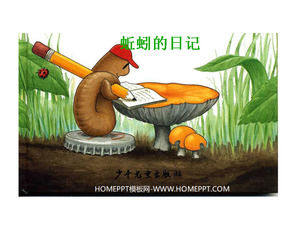 "Earthworm diary" picture book story PPT;
This is a very interesting picture book, written in diary way, record and express the observation and thinking of small earthworms. From the point of view of small earthworms, the world records the life of the school, the family and the friends, and the self, the future, and the child's approval. But also in humorous and humorous tone, to convey the relevant knowledge of different organisms and the Earth. Help children develop optimism, positive attitude, and the habit of multiple thinking.