Free Abstract Cables PPT Template
File Size: 1002.17KB
Download times: 43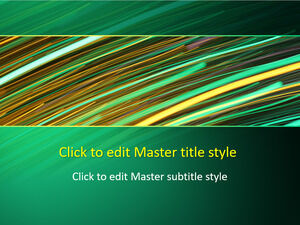 Free abstract cables PPT template is a modern style presentation for communication companies. It has a multicolor strand of cables in the title slide. Download free PPT slides with bright colors, like reflections you get from a fiber glass design. Technology is not only an effective means of communication, but also provides a captivating image. There are a number of free PPT slides available on PPTemplates, such as free abstract purple PPT slides, and Microsoft PPT template.
There are a number of application of cables in telecommunication, and electric wiring, and these can be explained through free abstract cables PPT template. The presentation is also a useful template making platform for cables that are of daily use, such as Network cables, Fiber optic cables, and Ethernet cables to name a few. Such cables are used in an office environment so the employees should have the basic knowledge about the working principle and maintenance of regularly used equipment.
There is a dark green theme to the abstract cables PPT slides, such that they are appropriate for any telecommunication and technology related presentation. The abstract element brings quite a lot of interest and intrigue into the picture. Not articulating your subject with a picture and opting for an abstract makes the presentation more polished and captivates the attention of your audience.
Free abstract cables PPT template is available for download for the latest and previous versions of OpenOffice Impress and Microsoft PowerPoint.