Simple chalk hand-painted style work summary report PPT template
File Size: 3.15MB
Download times: 29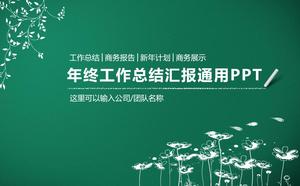 Simple chalk hand-painted style work summary report PPT template,This is a set of simple chalk hand-painted style, work summary report PPT template, a total of 26.
The cover of the slide template uses a green gradient picture as the background, and a hand-painted art flower in chalk as the background picture. Use white font in the middle to fill in the work summary report PPT title, with a white chalk icon at the end of the title, which is very spiritual.
The PowerPoint template content page is made of 24 colored chalk hand-drawn charts, which is very unified with the template style. At the same time, the template uses multiple white chalk hand-painted plants and flowers as decoration.