Gesture background data analysis report PPT template
File Size: 1.05MB
Download times: 202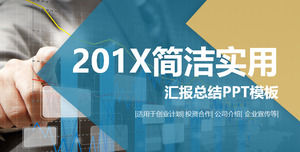 This is a set of gesture backgrounds, data analysis report PPT template, a total of 22.
The slide template cover uses a business character gesture and a data analysis report image as the background. Use two superimposed triangle graphics to fill in the PPT title.
The PowerPoint template content page, with blue and yellow, is designed with 20 useful slide charts. In addition, a number of workplace pictures, hit bullseye pictures, and computer office pictures were used as typesetting materials.
This template is suitable for making various types of data analysis PPT, sales performance analysis slides, etc., PPTX format;