International Children's Day PPT template
File Size: 1.69MB
Download times: 33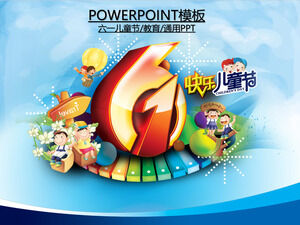 This is a PowerPoint template with Children's Day as its theme. The PowerPoint template language is Chinese. Slides have a number of useful menus, statistical charts, and relational diagrams. The layout of the graphic and text layouts is very rich and can be used as a general educational PPT template.
International Children's Day (also known as Children's Day, International Children's Day) is scheduled for June 1st of each year. In order to mourn for the Liddish tragedy on June 10, 1942 and all children in the world who died in the war, we oppose the killing and poisoning of children and protect the rights of children.
In November 1949, the International Federation of Democratic Women held a board meeting in Moscow. Representatives of China and other countries have angrily exposed the crimes of the imperialists and reactionaries of various countries who slaughtered and poisoned children. The meeting decided to use the 1st of June every year as International Children's Day. It is designed to guarantee the rights of children of all countries in the world to live, health and education, and custody, to improve the lives of children, and to set up holidays to fight against children and poison children. At present, many countries in the world have designated June 1 as a holiday for children.
What you see above is the 10 pages in this PPT template. You can download this PowerPoint template for free and use it freely for your PowerPoint design.
pages: Total 28 pages
Page Size: 960px x 720px
Display ratio: 4:3
File size: 1.68 MB
Attachment type: .zip
Software: PowerPoint 2003, 2007, 2010, 2013/wps office