"Like a wolf howling" picture book story PPT
File Size: 1.55MB
Download times: 689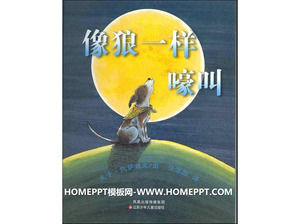 "Like a wolf howling" picture book story PPT
Moka is a good dog, but it is not willing to only do a good lawful dog. Mocca is a pet, but it is not reconciled to be only a hundred percent of the pet. It is boring flat, stable days, want to try a very different life - like a wolf howling, like a wolf prey prey, like a wolf free, free, arbitrary. So, it was brave to leave ... ... what happened in the end it? Let's read it together!
Moka is a very good dog, he and the owner Michelle two love each other, you can not do without me, I can not do without you, the day was very happy. Until one day, Michelle read a book about the wolf, "You see, Moka," said Michelle, "you're a bit like a wolf!
But what date did I have? Mocca sighed, I was just a pet at home, he was ashamed, especially in the Michelle let him board clothes to attend those tea, he wanted to do a wolf.
The next day, Mocca made his mind. He sneaked out of the room and ran all the way to the mountains. He ran and ran, ran and ran
He ran He jumped He dances.
He was happy where he was urinating. "Wow!" He cried, "this world is mine!"
But he can not catch the rabbit. The beetle bite him. The skunk sprinkles him with stinks. Even the voles also took him a joke.
At night, Mocca was even more upset. He misses Michelle.
"I even miss her tea party." He grunted, "but I can not throw in the towel, there is one thing I have to try to see"
However, he was still a bit unwilling. When he learned the wolf look "wailing whining whining" cried, the real wolf appeared. Moka finally scared, he turned on
Ran down the mountain. "I want to go home!" He said, "I will not do wolves anymore!"
He ran, ran, ran