"My lucky day" picture book story PPT
File Size: 1018.95KB
Download times: 860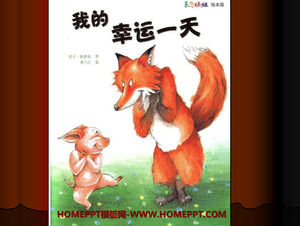 "My lucky day" picture book story PPT
Foxes and piglets, in the animal world is a strong sense of the two images. The fox represents the shrewd, cunning, and the pig on behalf of stupid, honest. At the beginning of the story, confused piggy made a fatal mistake: he actually mistaken the door, the fox's home mistaken as a rabbit's home.
So the fox opened the door and shouted: "This is really my lucky day!" Delicious dinner automatically come to the door! This is a contrast to the disparity of the struggle, no one can easily see the outcome. But the good thing about the book is that its end is often unexpected.
At first, Mr. Fox had the upper hand. The poor little pig, it seems that everything is to please Mr. Fox, make themselves more hygienic, more delicious, and to Mr. Fox made a variety of requests. He was silly, worried, frown, it seems that all this for him is forced to suffer. In fact, this is just a strategy for the pig: the first can delay time, so that they get more time to think about how to escape. Second used to paralyze the enemy. Because he is more with the fox to him more assured; the more he behaved hate bathing, hate eating, hate massage, the more the more the fox how it is necessary. So, we see the fox gentleman willingly ran for the pig ran, picking trees, fire, picking tomatoes, making cookies, and even to the pig massage, to meet all the requests of piglets. It is estimated that his father is not so much better. If there is no lucrative meal in front of the temptation, how could he have such a big power? Greedy desire in the mind of the rise, cover the fox's reason and common sense. While the pig using their own wisdom, successfully reversed the situation. The final outcome is: the fox because of overwork and fainted in the past, that clean, soft, eat full of pig, then swaggering away from the fox's home, leaving also did not forget to bring the fox roasted little sweet cake.
The most unlucky thing done by a piggy, is a knock on the door of a fox. Similarly, we know that a fox when the most fortunate, must be open the door, saw a chubby pig standing outside the door. However, the world has never been lucky to fly, there is no trouble to get out. When greed comes in my heart, even if it is smart as a fox, it will be fooled by a dirty and small pig. Because greed will make fortune bad luck, and wisdom will make the misfortune into lucky. Lucky and unfortunate, in fact, only one step away.