Open book background teacher open class PPT template, class open class PPT download
File Size: 690.40KB
Download times: 272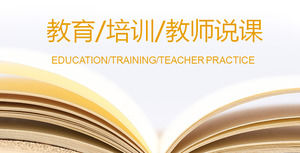 This is a set of open book backgrounds, a total of 22 PPT templates for teachers.
The slide template cover uses an open book as the PPT background image. Fill in the open class title in yellow font above, and the color of the background image is uniform.
The PPT template content page uses yellow as the main color. Typesetting with multiple books, libraries, and classroom pictures.
Keywords: books, books, textbook slide background pictures, teacher talk class PPT template, practical open class PPT template, .PPTX format