Sales staff must see PPT
File Size: 2.79MB
Download times: 840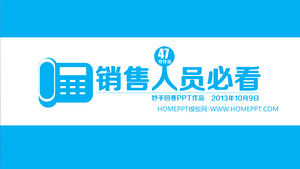 This is a "must-see salespeople PPT", Author: Miaoshouhuichun; first PPT PPT Templates provide network download;
The PPT gives those who intend to enter the sales industry, or have entered the sales industry, but suffer from no performance of the people;
There is a person to sell a used car.
Every day to play 100 calls, 36,000 calls a year, of which 28800 will be connected, 11520 will listen to him, 4608 will be interested, 1843 will come out, 737 will consider, 294 will have intention, 117 Will negotiate, 47 want to buy, the final turnover of 18, 18 transactions will make him earn 200,000 yuan;
He came to the conclusion: each call a phone will earn 5.56 yuan.
Thus, he considered the question is not how many people today will answer the phone?
How many people will listen to him after answering the phone?
Nor how many people will come out after listening to him?
But I can play a few calls a day?
Remember, there will be quality!