Strategic Planning PPT Template
File Size: 137.60KB
Download times: 3613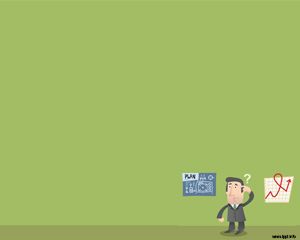 This Strategic Planning PPT has a green background and a marketing plan with a chart. The template is suitable for marketing implementation as well as direct marketing presentations to be used by a marketing company or marketing firm. Also can be used to embed sales strategy plans into a swot presentation or PPT analysis. The template has a guy asking himself what strategy to follow.
The guy illustration is like a marketing consultant deciding which plan to follow and looking to the plans and charts. This free strategic PowerPoint template can be used in your own company for strategic planning or also to create business plans, conceptual maps, mind maps, or any strategic map planning on PowerPoint. Strateic Planning PowerPoint is by fact one of the most searched PowerPoint templates, if you are looking for strategic planning PowerPoint templates then this template is one of the best options.
Free planning PowerPoint template is good for planners or if you need to create plans for your next projects at work or get more information about free templates of implementation plan on a PowerPoint.