"Three Little Pigs on Kindergarten"
File Size: 955.93KB
Download times: 835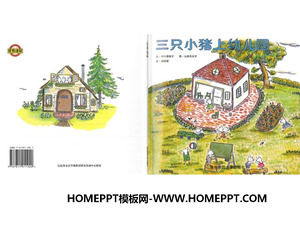 "Three Little Pigs on Kindergarten"
The ranch is full of flowers and the bees are flying and flying. At this time, three little pig wood, flowers, buzzing birth friends.
Three kinds of piglets ran in the pasture every day, naughty. Three pig also want to help do housework, but you see, this is the pig mother and pig father to discuss: "send the children to the kindergarten go, how? Well, pig father said, that Ye Hao.
The next morning, wood, flowers, buzzing just like the mother went to the principal kindergarten. Wow, so many little pig ah. Three pig surprised. Come, we first say hello. So, the flowers and buzzing also followed the cry: mother, mother, the children are very happy to do gymnastics, and three piglets have been toward the pasture side to see The
Bite, the teacher blows the whistle, wood, flower, buzzing, come and talk with everyone, to touch the poplar, to run back Oh, see who can run the first come to stand next to me There 's a lot of piggys here, and there' s a lot of money for the piglets. And ran again and again.
Goodbye, my mother to pick up three pig friends. Teacher, goodbye, children, goodbye .Three pig told the teacher and friends.We have to play tomorrow, we like kindergarten. Wood, flowers and buzzing, Three piglets all the way to the ranch.