University graduate career planning
File Size: 299.98KB
Download times: 720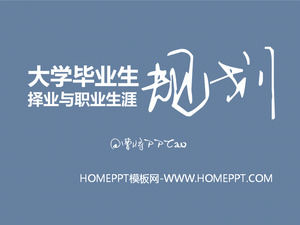 This is not a lot of pictures dotted college graduates career planning PPT. Author: Cao will. The first PPT template network provides PPT download;
Career planning can also be called career design, refers to the combination of individuals and organizations in a person's career and subjective and objective conditions for the determination, analysis, summed up the basis of research on their own interests, hobbies, abilities, expertise Experience and lack of all aspects of comprehensive analysis and trade-off, combined with the characteristics of the times, according to their own career tendencies to determine its best career development direction, and to achieve this goal to make effective arrangements.

First do self-evaluation
What i want to do, what can i do, what should i do?
And then tailored short-term goals, medium-term goals, and long-term goals;
What i want to do, what can i do, what should i do?
To assess their professional positioning, the industry positioning, industry prospects;
Max (oneself) = f (talent, character, interest, environment, professional ...)
Hope that the college graduates career planning PPT, to help students will graduate. So that they will provide some help after the workplace.