Watercolor Flowers and Birds Background PPT Templates
File Size: 6.48MB
Download times: 45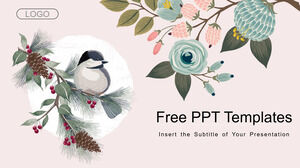 This is a set of fresh watercolor flower and bird background PowerPoint templates, beautifully designed and full of artistic appeal, which can be widely used for PowerPoint presentations and Google slide themes in education and training, work reports, brand planning, graduation defense, etc.

The cover of the PPT template uses a pink background, watercolor hand painted flowers and birds background pattern, and the title of the PPT presentation is filled in the lower right. The interface style is fresh and beautiful.

The content page of PowerPoint template is composed of 21 elegant gray slide charts and PPT typesetting. In addition, a variety of watercolor flower illustrations are used for decoration.

Welcome to download. I wish you all the best, a happy life and good health.

Template pages: Total 34 pages
Template page Size: 1280PX * 720PX
Template display ratio: 16:9
Template language: English
Applicable software: PowerPoint 2010, 2013,2016,2021…/wps office/office 365/Google slides