"You are very special" picture book story PPT
File Size: 421.48KB
Download times: 1225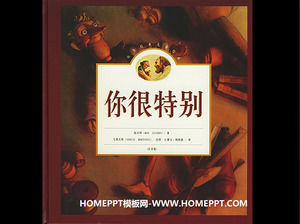 "You are very special" picture book story PPT
Vimaker is a group of small wood people. They are carved by carpenter Eli. His studio is located on a hill, from where it can overlook the whole village of micro-gram. Every micro-American people are not the same. Some big nose, some big eyes, some tall, some short, some wearing a hat, some people wear a coat. But they are all the same carved out, also live in the same village.
The micro-American people only do one thing all day, and every day the same: they stick to each other stickers. Every micro-American person has a box of Venus stickers and a box of gray stickers. They are in the streets every day, to meet the people posted stickers. Woody smooth, lacquered, nice wood people are always affixed to stars. Woody rough or paint off will be affixed to the gray point.
Talented people will certainly be posted stars. For example, some people can put the big stick over his head, or can skip the pile of high boxes. In addition, some people learn well, and some people will sing. We will give these people posted stars stickers. Some micro-United States grams of people are covered with stars! Every get a star, they are so happy! They will want to do something again, so much more than a star. However, those who do not have anything, it is only a little bit of gray.
Fat brother is one of them. He wants to jump with others as high, but always throw the four feet overturned. Once he fell off, the other people will come around, put him gray bit. Sometimes, when he fell to scratch his body, others for his sticky gray stickers. Then, in order to explain why he fell back, talked about some ridiculous reasons, others will give him some gray spots. Soon after, because he was too much gray, do not want to go out. He was afraid to make any stupid things, such as forgetting the hat or stepping into the water, so that others will give him a gray point. In fact, some people just because he saw a lot of gray stickers, it will run over to give him a few more, there is no other reason.
"He should have been posted a little bit of", we all say so. "Because he is not a good man." Listen to more so, fat brother also think so. He will say: "Yes ah, I am not a good micro-grams grams." He rarely go out, every time he will go out with a lot of gray and then some people, so he will not inferiority.