Graduate training program PPT free download
File Size: 226.83KB
Download times: 601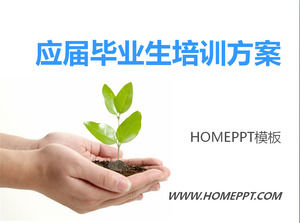 This is a training program for college students graduate training PPT, in order to provide guidance for the training of graduates.
Slide the home page with the elegant white as the PPT background color, a pair of holding a small sapling connotation picture as a PowerPoint background picture, meaning you can already go outside to accept the test of wind and rain. Slideshow with black background, with blue and white slideshow elements, it is easy for viewers to see slideshow content.
If you are looking for a PPT case for the production of graduate training. You can download this PPT as a template reference.